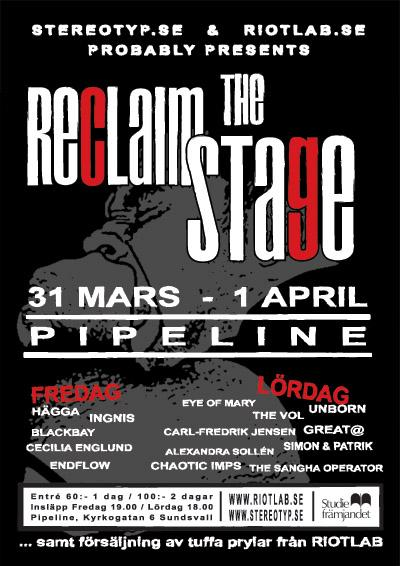 En tvådagars gala för att synliggöra Sundsvalls rika musikliv och startpunkten för den helt nystartade musiksajten stereotyp.se och tuffaklädessajten riotlab.se båda lokaliserade i Sundsvall ..and all over the world ….i cybervärlden.
En två dagarsgala med 14 band på scenen. Denna dag uppträder
följade:
Eye Of Mary
Unborn
The Vol
Carl-Fredrik Jensen
Great @
Simon & Patrik
Alexandra Sollén
Chaotic Imps
The Sangha Operator
SPARA PENGAR – Köp en 2 dagarsbiljett för 100 kr vid entre ! Inget förköp.
EXTRA: Försäljning av coola prylar från RIOTLAB.SE