Medlemmar 100:- Icke medlemmar 180:-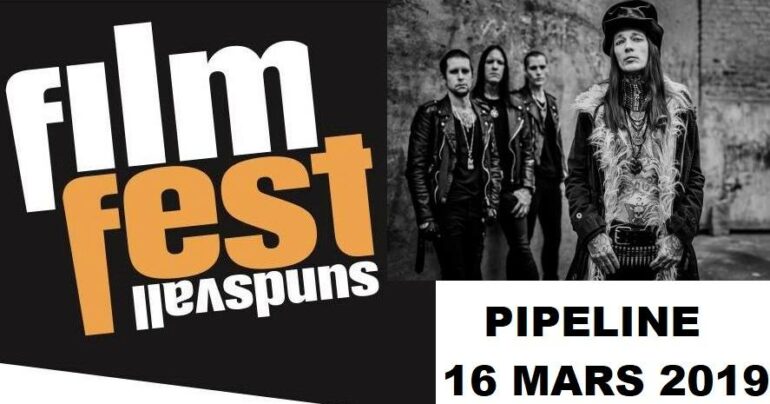 Music Doc Mania & Alfahanne
Film Fest Sundsvall invaderar legendariska rockklubben Pipeline med musikdokumentärer – inklusive exklusiv visning av splitternya Broder Daniel-filmen I'll Be Gone. Plus en film om funkdrottningen och feministiska pionjären Betty Davis, samt Here to Be Heard – The Story of The Slits om fantastiska, halvt bortglömda, punkbandet The Slits – ett för 70-talet något så ovanligt som ett kvinnodominerat punkband. Kvällen avrundas med Eskilstunas stolthet, Alfahanne, live! Allt i en och samma biljett.
16:30:
Here to Be Heard: The Story of The Slits
(William E. Badgley, Storbritannien 2017, 86 min)
"Guys didn't know whether to fuck us or kill us", säger übercoola The Slits-gitarristen Viv Albertine i en film som berättar om bandets uppgång och fall och där en rad punkikoner flimrar förbi i det unika bildmaterialet från 70-talets London. Trailer: https://www.youtube.com/watch?v=XqsHv5V4DQA Sverigepremiär!
18:00:
I'll Be Gone
(Amelia Trask, Sverige/USA 2019, 98 min)
Broder Daniel började som vattendelare på 90-talet: i kultursofforna diskuterades flitigt om Henrik Berggren verkligen kunde sjunga? Det känns avlägset nu när de energiska, egensinniga sånginsatserna i låtar som I'll Be Gone och Shoreline har etsat sig fast i svensk pophistoria. Filmen är gjord av två amerikanska fans och filmskapare som fick unik access till Berggren och de andra. En av ytterst få Sverigevisningar, så passa på!
19:45:
Betty – They Say I'm Different
(Phil Cox, Storbritannien 2017, 54 min)
Funkdrottningen, modeikonen och feministpionjären Betty Davis ändrade landskapet för kvinnliga artister i USA på 70-talet. "She was the first", som maken Miles Davis påpekade: "Madonna before Madonna, Prince before Prince." Men plötsligt försvann hon från rampljuset. Vad hände? Trailer: https://www.youtube.com/watch?v=bYCHRXpCz8c
21:30
LIVE – Alfahanne
"Alfapocalyptic rock"… Black metal möter punk möter klassisk hårdrock. Svenska texter, kanske är Alfahanne helt enkelt "Det nya svarta"?
Pressmeddelande:
"When Swedish rockers ALFAHANNE burst onto the scene in 2010 it was with minds determined to bring back danger to rock n roll. Playing what the band calls "Alfapocalyptic Rock", which mixes Black Metal with Classic Rock and Punk, and good old Rock n Roll, ALFAHANNE has created their own style of music earning plaudits from critics and fans alike.
ALFAHANNE's stage debut came at 2014's Inferno Metal Festival where their show garnered them high praise. Since then they have been much in demand for club and festival appearances, playing such as Blastfest, Tuska and Incineration. Their high energy, exuberance, and easy going, friendly, interaction with the fans (both on and off the stage) make them guaranteed crowd pleasers.
Already released two albums Eskilstuna´s finest is now back with a new album. Once again exploring the darkness of mankind and continuing to widen their musical realms the new material will mark the beginning of a new era. The third album is truly a monster and it´s release will make it clear that ALFAHANNE is the new black".
Pris: 180kr (100kr för Pipelinemedlemmar).